Radiation all around us
Humans have been exposed to radiation from natural sources since the dawn of time. The sources include the ground we walk on, the air we breathe, the food we eat and the solar system on the whole. Everything in our world contains small amounts of radioactive atoms like Potassium 40, Radium 226 and Radon 222. These are either left over from the creation of the world (like Uranium and Radium) or made by interactions with cosmic radiation (like Carbon 14 and Tritium). The Earth is constantly in a flux of cosmic radiation from outer space. BY FAR, RADON IS THE BIGGEST HEALTH RISK of this naturally occurring radiation. It makes up approximately 55 percent of the average annual dose of radiation to the US public. The following was developed by the National Council on Radiation Protection and Measurement (NCRP 93) and is a breakdown of the sources of radiation for the population of the United States. These numbers are averages and were obtained by estimating the total dose for the US, and dividing by the number of people in the US.
Radon
Radon comes from the decay (change) of Uranium, a natural element. Uranium decays through a long chain of radionuclides that includes radon. Radon is a noble gas, not chemically active so it migrates through porous materials like the ground and your house's foundation. The radon itself has a small chance of decay as you breath it in and out. Most of our actual dose comes from the decay products of radon, sometimes called radon daughters or radon progeny. These radon progeny are particles not gases, and can be deposited in your lungs as you breathe. There they have some chance of decaying before your body can get rid of them, resulting in a radioactive dose.
Annual Effective Dose Equivalent

SOURCE

DOSE
(mrem/yr)

DOSE
(mSv/yr)

PERCENT OF TOTAL

Natural

Radon

200

2.0

55%

Cosmic

27

0.27

8%

Terrestrial

28

0.28

8%

Internal

39

0.39

11%

Total Natural

300

3

82%

Artificial

Medical X ray

39

0.39

11%

Nuclear medicine

14

0.14

4%

Consumer products

10

0.1

3%

Other

Occupational

0.9

<0.01

<0.3

Nuclear Fuel Cycle

<1

<0.01

<0.03

Fallout

<1

<0.01

<0.03

Miscellaneous

<1

<0.01

<0.03

Total Artificial

63

0.63

18%

Total Artificial and
Natural

360

3.6

100%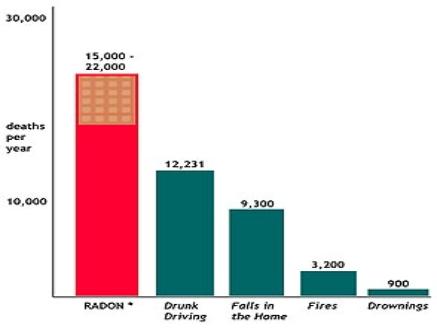 Frequently Asked and Answered Questions (Interactive)
What are the Health Effects of Radon?
Where is Radon Found in Pennsylvania?
Pennsylvania Radon Map
This is a detailed map of Pennsylvania It shows Percentage of Reading above 4 pCi/l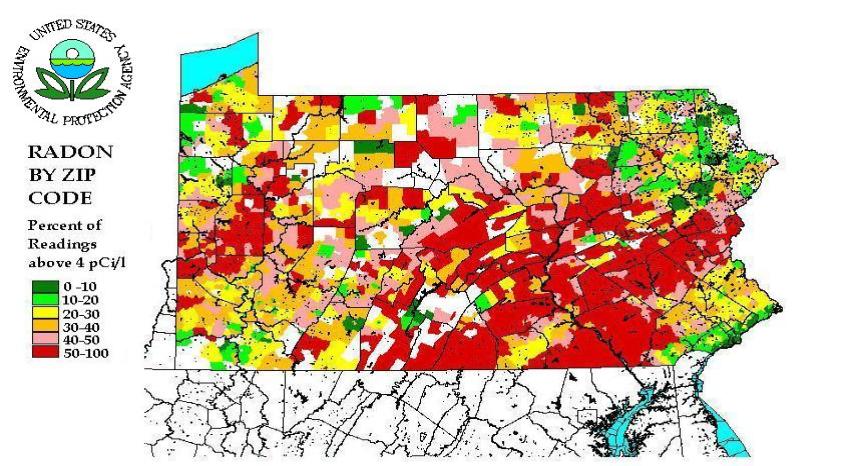 Dispelling Some Common Radon Myths
"I don't have a basement, so I probably don't have a radon problem." Radon can seep in from soil anywhere around or under a home, regardless of whether your home has a basement, a crawl space, or is built slab-on-grade. The U.S. Environmental Protection Agency and the Surgeon General recommend radon testing for all types of homes.
"I don't live in an area designated as a high radon zone, so my home won't have a problem." The U.S. EPA and the U.S. Geologic Survey conducted surveys of radon potential across the United States. They broke the country down into three zones according to their potential for high indoor radon levels, with Zone 1 having the highest radon potential. It is true that homes in Zones 1 and 2 have a statistically higher chance of having elevated levels of radon. However, the fact is that elevated levels of radon have been found in homes in all fifty states. The radon level in your home depends on the geology under and near your home. The only way to know for sure, and to protect your family from radon, is to Test your home.
"Two of my neighbors have tested their homes for radon and they don't have high levels, so I probably don't either." Radon levels can vary considerably from house to house, even on the same street. It is nearly impossible to predict the exact nature of geologic soil deposits and the extent to which soil gasses will seep into and be retained by a specific house. Again the only way to know whether radon exists in elevated levels in your home, and to protect your family from radon, is to test.
"There doesn't seem to be much proof that radon is a serious health problem." The science on radon has been formidable over the years, but never before have had we had such overwhelming scientific consensus that exposure to elevated levels of radon causes lung cancer in humans. In February of 1998, the National Academy of Sciences (NAS) presented the findings of their Biological Effects of Ionizing Radiation (BEIR) VI Report: "The Health Effects of Exposure to Indoor Radon." This new report by the NAS is the most definitive accumulation of scientific data on indoor radon. The report confirms that radon is the second leading cause of lung cancer in the U.S. and that it is a serious public health problem. The study fully supports U.S. EPA estimates stating that radon causes between 15,000 and 22,000 lung cancer deaths per year.
How do I find out if My House has elevated Levels of Radon? Performing a Radon Test is the only way to accurately access the radon levels in your home.
Get a listing of Certified Testers from your state radon office or local health department by calling Pennsylvania DEP in Pa 1-800-23RADON, outside PA 717-783-3594
Then Call
Pro-Tech Home and Business
570-742-2020
Short term test are from 2 to 90 days in duration. Let Pro-Tech place a radon detector in your home in the lowest lived in level. Pro-Tech will return to your home or business and retrieve detector. Results from Continuous Monitors can be reported the same day. The whole process only takes a week or less.