Protecting You from the DANGERS of RADON, is OUR Business
Pro-Tech Home and Business
Radon Testing & Mitigation Services
1015 Green St. Milton Pa
Phone (570) 742-2020 Fax (570)-742-9752
Pro-Tech is Central Pennsylvania's Leading Certified Radon Specialists. We are the right choice for Radon Testing and Radon Mitigation. We specialize in Radon detection and the design and Installation of Radon Systems. We take great pride in providing Quality Radon Services.
Pro-Tech has successfully reduced the radon levels in thousands of homes and businesses across Central Susquehanna Valley. We have successfully served private home owners, business owners and the real estate industry.
The proper installation of a Radon System and you're Satisfaction and is our top priority.
Pro-Tech Technicians Have Over 35 Years Combined Experience.
We Guarantee to Reduce Your Radon Level To below the D.E.P. Recommended Level of under 4.0 pCi/l
Pro-Tech is listed with DEP as a Certified Firm (# 2558)


We are also Registered with Pa Attorney General as a Pa. Home Improvement Contractor (PA # 42037).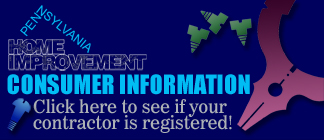 Pro-Tech Home and Business
Radon Testing & Mitigation Services
1015 Green St. Milton Pa
Phone (570) 742-2020 Fax (570)-742-9752